Pathfinder and Adventurer Clubs
前鋒會少年團及幼年團

Who are Pathfinders?
Pathfinders are a worldwide organization of young people sponsored by the Seventh-day Adventist Church, though young people of any religious persuasion, or none at all, are welcome and encouraged to join the organization.
The Adventurer Club
Adventurer Club is a Seventh-day Adventist Church-sponsored ministry open to all families of children in grades 1-4 who agree to keep the Adventurer Pledge and Law.


2014 Oshkosh Camporee LACC Pathfinder Fancy Drill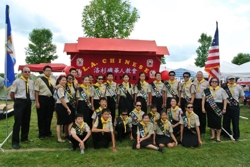 2014 Pathfinders International Camporee - Oshkosh, WI
2009 Camporee Photos
2009 國際金波利大會照片集
Last Update: 2011-08-24 CM