Welcome to the LACC English Ministry! Come join our English services 
every Sabbath at 9:45 am in the Chapel! 

Current Sermon Series


Pastor Pablo J. Diaz's Bio:


Pastor Pablo is a native Californian, born and raised in Riverside, CA. He started middle school and later finished high school at La Sierra Academy. While pursuing a career as a health care professional at La Sierra University he discovered his passion for studying religion. Having graduated from La Sierra University with a B.A. in Religious Studies and Pre-Prosthetics and Orthotics, he faced a crossroad –– go to seminary or attend Loma Linda University to complete the health profession route he had started. Through conversations with friends, mentors, and the discernment of Spirit, it was clear that seminary was where his passion lay. In 2018, he graduated from the Claremont School of Theology with an M.A. in Religion: Interdisciplinary Studies with dual-emphases in Religion, Ethics, and Politics, and Philosophy of Religion. While his academic interests are varied, his passion lies in bringing an interdisciplinary social analysis to the study of the Hebrew prophets and the Gospels, specifically the Gospel of John so that the Word of God echoes as, "a voice crying out in the wilderness."
Pastor Pablo likes to spend his free time reading books in philosophy, theology, and cultural studies. When he's not studying, preparing for a sermon, or working on the church website, you can find him riding his bike around Southern California or backpacking over mountain passes. For him, the essence of Christian life is summarized in Micah 6:8, "What does the Lord require of you but to do justice, to love kindness, and to walk humbly with your God."


"My hope and prayer is that wherever you come from, you will find a community here and that the picture of Jesus you find here is one that simultaneously ruptures your reality and brings you peace."

Blessings, 
Pablo J. Diaz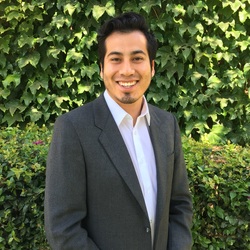 Pastor Ellie Hua's Bio:

Ellie Hua received her BA in Business Administration from CSUF. She graduated from Souls West Bible College and worked for the Southern California Conference as a Cross Trainer (CT) and CT Coordinator at West Covina Hills SDA Church and Whittier SDA Church respectively. Currently, she is working towards a BSN at CSULA. Most importantly, she enjoys living and sharing the day-to-day experience of walking with Jesus.

LACC English Ministry Family Portrait: