Welcome to LACC Social Activities Page.

Our team for 2016-2017 consists of: Ron Lee (Interim Head), Cyric Chang, David Ha, David Hu, Daisy Lam, Connie Leung, Angel Li, Rain Xu, and Shirley Tan.

Some of the highlights for last year's Chinese New Year Celebration 2015.

Two videos of the CNY celebration are posted below. Please enjoy.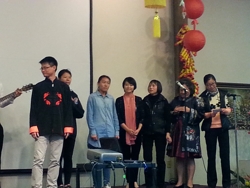 Flash Mob Singing



LACC Got Talents: Pathfinders Fancy Drill