2011 年基督復臨安息日會北美華人帳棚大會
2011 North America Chinese Seventh-day Adventist Church Campmeeting
Speakers' Topics 講題
Friday, July 1, 7:30 pm: "Homeward Bound - A Journey"
"This world is not my home, I am just a passing through" - an old time song that the speaker and us all had sung. In giving glory to God, our speaker shares his testimony of how God brought him back on a homeward bound journey. How did God allow him to leave a senior management position for a NASDAQ company to see a bolder, greater, God-given vision? Perhaps a similar vision God is ready to bestow on you! Come and start your visionary journey!
7 月 1 日星期五晚上 7:30 - 主題:天路旅程
一首多年來家喻戶曉的詩歌,「此世非我家,在世是客旅」。主講人將榮耀歸於天父;他將講述主怎樣將他帶回到天國的道路上。上帝怎樣讓他辭去了一間納斯達克高科技公司高級主管的職位,然後讓他看見上帝為他所預備更富有想象力的,更偉大的遠景。或許主已為你預備相似的遠景。請各位來與主講人,一同開始這富有幻想的旅程。
Sabbath & Sunday 7:00 am - Morning Devotion: "Homeward Bound - Our Daily Journey"
Morning devotional will be short and simple tips in getting the most of Bible reading, prayer and quiet time.
安息日及星期日早上 7:00 - 晨鐘主題:天路旅程中的日日夜夜
晨鐘聚會將簡短地講解怎樣可由讀經,祈禱和默想,獲得最大的益處。
Sabbath, July 2, 11:00 am: "Homeward Bound - When?"
Some are looking at time prophecy charts, looking to Rome, looking for new light to determine how close it will be going our Heaven bound home. Is this where we should be looking? Is the earth not already groaning with earthquakes, environmental disasters, unusual climate patterns and other events that even secular commentators are concern about? By studying a profound chapter in Revelation, the speaker uncovers when we will be homeward bound.
7 月 2 日安息日早上 11:00 - 証道主題:何時起程回天家
有人依靠研究預言的時間表,羅馬,或等待新的亮光,去決定起程回天家的時間,是多近了。這些是否是我們應當查考的地方呢?難道已令世俗評論家們關懷的地震,環境災害,不尋常的氣候變異,和其它的事件,還不夠嗎?讓我們一同研究啓示錄書中一章深奧的經文,瞭解何時起程回天家。
Workshop Series - "Homeward bound - As a Family"
研討會 -主的家庭一同回天家
Sabbath afternoon 2:30 pm – 4:30 pm
Workshop #1 - Why do 70% of young people leave the church?
Workshop #2 - Bringing young people on a homeward bound journey
7 月 2 日安息日下午 2:30 – 4:30
研討會主題一:爲何七成的青少年人對教會冷淡?
研討會主題二:在歸程中帶領青少年人
Sunday morning 9:30 am – 1:00 pm
Workshop #3 - Four missing ingredients in the young people - causing them to leave
Workshop #4 - How to rebuild these 4 ingredients?
Q & A
7 月 3 日星期日 早上 9:30 – 下午 1:00
研討會主題三:令青少年人冷淡的四個因素
研討會主題四:重建青少年熱忱的四個因素
問答時刻
In this workshop series we will look at the greatest concern for most adults and parents in our church - why are we losing our youth and young adults? Will our own kids or grandkids be next? Do we just accept this is norm? That they need to wonder in the world before coming back to God? Maybe you are a young adult and you want to help your friends. You want to bring them home. This workshop is for you!
It is not just the young people, we see too many people who had walked out the back door. It is discouraging the local church. How do we overcome this issue?
We will look at a case study at Gateway Adventist Centre, Melbourne, which had grown from 20 members to two churches and planting a third. It has seen close to 100 young people baptized in the last 8 years but it has a 93% retention rate. We will study the principles that rescue, retain and reclaim the young people on a homeward bound journey to heaven.
在研討會中,我們將省察為甚麽青少年人對教會冷淡?我們自己的孩童是否會走上同樣的道路?難道我們肯接納這是正常的嗎?難道我們說,讓他們在世界上混,直等到他們願意回頭是岸的時候嗎?青少年的朋友們,你或許心中有意幫助你的好友們,你甚願帶領他們回天家;這個研討會是為你安排的!

不但只是青少年人,太多由前門入教會的弟兄姊妹,不幸選擇由後門消失了。地方教會應當關懷這情形。這問題應當怎樣解決呢?

讓我們一同研究墨爾本基督復臨安息日會的經驗;一個由20位教友開始的小教會,成長成兩個自立的教會,而且正在計劃第三個教會。在過去的八年之中,將近一百位青少年籍著洗禮加入這些教會,九成以上仍忠心持守真道。墨爾本教會拯救青少年生靈,保留生靈,和尋囘迷路生靈的經驗,是值得研究的。
---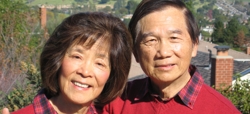 Dr. Benjamin & Esther Lau 劉漢新醫生夫婦
Sabbath, July 2, 2:30 pm: Global epidemic of cancer--why?
We'll present information from the epidemiological and scientific studies, and, the Bible showing why there is a global epidemic of cancer, particularly why Christians get cancer. Does the Bible have information on prevention and treatment of cancer? Come and find out.
Sabbath, July 2, 3:30 pm: New strategies for winning the war on cancer
The war on cancer has long been won. Unfortunately, people either do not believe it or know it. The new strategies are actually very old strategies--because they are found in the Bible. We are excited to share with you the life-saving information.
Sunday, July 3, 10:00 am: Stopping the Metabolic Syndrome
Metabolic syndrome is a collection of several signs and symptoms that increase the risk of a person developing heart disease, diabetes, obesity and cancer. Fifty million people in the U.S. have it but most of them do not know it. Come and find out if you have it. If you do, don't worry, we'll show you how to eliminate it.
Sunday, July 3, 11:00 am: How to prevent dying from respiratory infections?
Each year 180,000 people in America die of complications of flu and pneumonia in spite of advances in medical science and technology. We'll share with you the simple methods our patients have used to prevent dying from the respiratory diseases
Back to Campmeeting Home
返回帳棚大會首頁
Last Updated: 2011-06-17 CM